Thank you to all of the competitors who took part in the 2017 World Masters Allround Games!!  We loved having you join us and we look forward to seeing you at our next Masters event!
---
---
BANQUET  and medal ceremony – Sunday evening at 6:30pm Pomeroy Hotel 11308 Alaska Rd, Fort St John, BC.
Please speak to the front desk of your hotel to arrange for the shuttle to the banquet!
---
---
---
---
---
Welcome Reception

The welcome reception will start at 6pm Thursday, March 9/17 at the Pomeroy Hotel 11308 Alaska Rd, Fort St John, BC.  Please click the link below for directions to the Pomeroy Hotel from the oval.
IF you are staying at one of our host hotels (Stonebridge, Pomeroy, Holiday Inn Express) make sure to let the front desk of the hotel know that you are with the World Masters so that you get the best rate.  Also let them know that you would like to use the complimentary shuttle that they have offered for our use for both the Welcome Reception and the Banquet.
The shuttle will be picking up for the reception at the
Stonebridge Hotel at 5:35pm
Holiday Inn Express at 5:45pm
The shuttle will also return you to your hotels when the event is over.  They will offer the same service for the banquet on Sunday evening.
---
The Pomeroy Sports Centre is the home of our indoor oval and our visitors centre.  It is located at 9324 96 St, Fort St John, BC V1J 0H6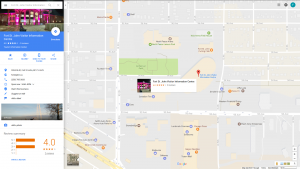 What to do while you are here (besides skating)? http://www.fortstjohn.ca/playing-fort-st-john
---
Ice times for training ahead of the games TRAINING SCHEDULE MAG 2017 v. 2
---
Canadian skaters WILL be required to wear ankle protectors – as per SSC sanction rules!